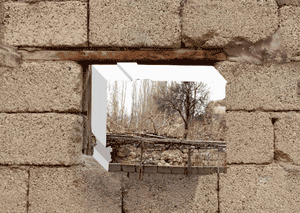 Artist Interview: Neslihan Koyuncu Bali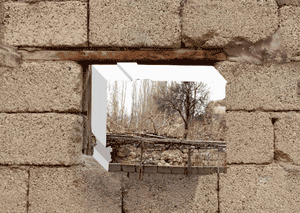 Above: So we meet again, 2014, nightstand, plant, wooden sticks, drawing
Above: Pages from artist's sketchbook
Neslihan, you completed your undergraduate and master's studies on Visual Arts at Sabancı University. Your master's thesis is on the biography and domestication of domestic objects, and the relationship between people and home.
Can you tell us a bit about how the themes on which you focused during your dissertation and thesis studies have influenced the works that you have produced afterwards?
Neslihan Koyuncu Bali: My dissertation that I wrote in 2014 focused on the possible relationship built between domestic objects and people. It was in descriptions in novels which the author uses to bring to life the inanimate objects around the narrator when expressing their emotions that I first observed the active role of the inanimate, passive object on how the person takes root in the place where they live. During the same period when I had a break from school due to health problems and went back to my family home in Antalya where I grew up, domestic objects became objects through which I mirrored my own thoughts and objects which I imaged came alive. During that period, I repressed my inner reasoning in the hospital room, whereI stayed as an accompany, then worked on them when I came back home. Trying to unravel the work I did during this period from a conceptual point of view in my thesis also made a psychological analysis possible. In my later work, in addition to my ongoing observations towards the relationship between the home and the outside, I have also started to look at relationship between what is inside and what is outside from a psychological and emotional point of view rather than a physical one.
Above: Breach: Into the mirror, out of the window, 2020, digital photographs
What is the relationship of the works within the scope of the "Nightstands" project with these themes?
NKB: I picture the nightstands in family homes as a safe of secrets where the parents keep the things that they cannot tell their children. The nightstand stories which I first drew on my sketchbook in Antalya were transposed into three dimensions when I found a VHS tape inside a nightstand that I had bought secondhand for my home in İstanbul. Then I tried to fit the inside of the home and the stories within the drawers of the nightstands. Just like how I used to delve into the drawers of my parents' nightstand as a kid, I photographed what was inside the nightstand drawers of other people. I collected secondhand nightstands and turned them into works of art; their own memorials carrying traces of their former lives.
Above: Exhibition view, The Day Before Tomorrow, Pilot Galeri, 2015
Could you touch upon some of the concepts that you dwell upon in your practice of art? What is a question/theme that you have not grown tired of interrogating in your practice of art?
NKB: When I look back, I see many traces in my life and my work of the issue of control. In the light of the many moments where I feel trapped between moments when I am in control and moments when I let go of control, my production of art progresses first and foremost as knots and untangling of these knots of my own psychology. Sometimes it is me who has tied the knot very tightly and through my work, I can tighten these knots as well as loosen them. What triggers me most are words and objects. I am deeply influenced by how something can be so loaded and powerful by itself. I want to unload that word, almost to ejaculate it with a sexual urge. The accelerated energy that emerges when I comb out the word into its singular letters, divide it into its singular sounds, place abysses between the meanings and then put them back together feeds me. I go hunting for words when I am reading a book or a text. Sometimes as a result of my hunt for words, I get lost in terms of what the book talks about in its entirety. And when I come across an object loaded with crumbs of meaning and memory, I can imagine its whole journey. Imagining the ghostly images carried in the follicles of a pinecone that I come across at sea can drag me along to different eras. So, if there is one question I have not grown tired of asking, it is what things (these can be words, objects, buildings, people, a sound, a stain) carry, how long they have carried it and where they are taking it.
Above: Drifting pinecone and its haunting ghosts, 2020, Lino print, marker, pencil on paper
You produce works of art in many different art mediums such as photography, video, drawings, sculpture, installation and create dialogues between these different mediums. Can you tell us a bit about the relationship you have developed specially with photography and the place of photography in your practice of art?
NKB: I generally find the process of creating to be a painful one. Photography has always had amending and therapeutic role in my process of creation, which has its ups and downs. While I struggle for myself despite myself, photography acts as a catalyst that softens the resistance in my mind and provides a new perspective. I believe the biggest reason for this is how the act of taking a photograph affects the act of looking that takes place before taking the photograph. It changes the way I look at things that I see every day and provides a tender transition towards production. For this reason, I have never been someone who constantly takes photographs; I can occasionally revisit the photographs that I have taken after a long time. As someone who really wishes to be able to travel through time, I believe studying the multi-layered relationship that taking photographs builds with reference to time can be nourishing even in the most arid of times.
The Uneasiness of Corporeity, 2015
What is the place of objects in your workplace? Are there any objects that you collect privately as part of your life?
NKB: I can say that generally I collect insignificant things that accompany important moments. Even though I long for the spaciousness promised by a minimalist lifestyle, I am more disposed towards hoarding. For example, a Scandinavian friend gave me a wooden bird as a house gift. It is believed that if this wooden bird is hung in a corner in the house for a year, it sucks in all the bad energy in the house and when it is set on fire at the end of that year, you are purified as the bird is burnt away. I am someone who cannot set anything on fire unless it is a phoenix. I can only burn it if it turns into an object of art, thus becoming immortal.
In parallel to the relationship of creativity with death, I believe that people can entrap parts of their souls into objects, thus becoming immortal. I also include objects in my work as long as they contribute to the story. However, generally I also prefer to leave my own mark on the object.
Below: Don't look at me, I'll be in the direction where you look at, Exhibition view, Letter From Istanbul, Pi Artworks, London, 2017
Above: Don't look at me, I'll be in the direction where you look at, Exhibition view, Letter From Istanbul, Pi Artworks, London, 2017
What are some of the major projects, trips or exhibitions that have a special place in your memory and that you see as a turning point?
NKB: My grandmother is an immigrant from Crete. Therefore, visiting Crete solely in the pursuit of the lives that my grandmother and grandfather led there was a spiritual journey for me. As an artist, it was nourishing for me to explore the boundaries of the activity area allocated to me in life within time. Crossing seas in order to imagine what was beyond my personal history enabled me to travel in the sea of time and to create different dreams and different ghosts within the body of a pinecone drifted away at the same sea. The recordings of the conversations I had with my grandmother as part of the research project of the "Akis" work I did for a photography festival in Greece are of great value to me. My happiness further increased because I ended up being instrumental in getting a friend's conversation with their grandmother in recording before she passed away.
Below: Akis, 2016, self portrait, wooden luggage, blue letter pages, resin, bottle, water, Poseidon figurine
Do you think the pandemic process has had a positive impact on your way of thinking? Have you formed new perspectives towards home-people concept that you have focused on in some of your projects?
NKB: Contrary to many people I've talked, I went through a very productive process during the first months of the pandemic thanks to my mechanism of denial. I was able to channel myself through content creation for the book, which we were working on as the last phase of the Arter Research Program during that period. On the other hand, like most people, time I spent out on the balcony during the pandemic has been inspiring for me as well. Inspired by the sounds of balcony for an exhibition at a museum, I started to draw balcony sounds. In this sense, the balcony, which is considered to be within the boundaries of the house while it can also be considered a public space became my point of departure. When the winter arrived, I finally experienced the inevitable feeling of inertia as my mechanism of denial was deactivated and I entered the phase of recognition.
Your project titled "Parmak İradesi" (The Will of the Finger) dated 2014 was exhibited in the "Habitat" Exhibition at Istanbul Modern. What were the personal gains you had, the discoveries you made throughout the project?
NKB: "The Will of the Finger" initially started at a time that I spent alone in my room at my family home after the hospital period. I can say that this is a good example showing the mending role of photography. I actually took the first photograph at a moment when I felt particularly heavy. I could not tolerate losing control over what I saw as well as if it wasn't enough losing the control of our lives to this illness. When I blocked the building that I did not want to see with my hand, the rest of the photographs followed. The interventions I made using my finger showed that my will is not merely about the frame, but it can expand to the objects that are in the frame as well. Even though I understand my efforts towards control for that period, it also gave me direction in terms of the necessity of insecurity brought on by uncontrolled spaces while some things are experienced.
Below: Straggler from Finger Will, See all Images from the series 
How do you think the geography that you currently live in and the cities that you have lived so far have been reflected on your work?
NKB: What occupies my mind the most about living in Turkey is that I thought I was at a "disadvantage" due to the aesthetic understanding in which I grew up from the first moment when I started to analyse my surroundings as a child. Even though I still imagine labelling the horrible shop signs and shop window designs 'UGLY', perhaps with an element of looking down on them, I then comprehended the nourishing side of growing up with kitsch. Cities where I was born, where I grew up, where I visited relatives and where I have lived have always left a mark on me and I kept an object of memory on my mind from each city. The wallpaper with flowers in Eskişehir, the smell of tyre shops in Emirdağ, the orange sunshades in Halıdere and cliffs in Antalya... I have carried and continue to carry each city into my works. I expand my memory by remembering them and spread overcities and regions.
Above: From the artist's visual diary, Analog photographs of the artist's mother, uncle and auntie, taken by the artist, in Eskişehir, Emirday and Antalya
How did dreams come to have a place in your works of art? "Dreamlog" is a work you did with reference to the dreamlog where you recorded your dreams for a period of three months before you moved from your home in Kadıköy. How did your dreams become instruments in your "Dreamlog" and "Diskroni" projects?
NKB: Ever since I was a kid, I have had experiences in my dreams where I was able to be conscious. For this reason, I have always had an intense relationship with my dreams. At a night when I was stuck between being awake and being asleep, something some people call a night terror experience, I saw/dreamed how the image of a dream gets formed in the mind. It was like looking into the world from a hole in a dark box. It was when I wanted to ponder on this seeing experience that I started the dreamlogs. I guess I can say that I continued as a method of dealing with the uncertainties born out of being about to move from a place I called home. It is impossible to miss the parallelism with this and my efforts towards control during the course of my mother's illness.
The Dream Log and Diskroni, which were born when I carried the dream holes into video and photography are consequences of my desire to experience the relationship between time and space differently. An action I frequently repeat in dreams when I am conscious is to see the dream in a frame and to take a photograph of the moment in order to entrap that non-existent moment of a dream in my memory. I believe that I can create a disruption in time, a diskroni, and my biggest desire in this life heading towards death is to prove the continuity of the process of creation by seeing in the future the effects of this disruption that I may have created through dream temporality.
Below: Dream Log, Room View & exhibition view, Bilsart, 2018
Above: Dyschrony, 2020, projection on the wall
In addition to your art practice, you have been working as a project/creative coordinator for 23.5 Hrant Dink Site of Memory for 3 years. Can you tell us about this role and the building process for 23.5 Hrant Dink Site of Memory? What were the methods you used in the visualisation of the archive documents?
NKB: 23,5 The Site of Memory came along as a result of a 4-year work. I was lucky to witness a big part of this process. 23.5 is a space that embodies the permission, ideas, efforts and labour of a lot of people. In addition to the building of the archive, creating a selection of the archive materials in line with the exhibition design, I worked in many phases from individually designing the rooms other than the Hrant Dink's protected room, to the process of modifications, and building the arrangement by Sarkis titled "Tuz ve Işık" (Salt and Light), which is behind Hrant Dink's room. I felt like I got to know Hrant Dink when watching the videos in the archive and for a while, I started and ended each day with his voice. During the construction phase, I scraped the walls and attended to the workers. The preparation process became an invaluable, emotional and intense experience for me.
The space was meticulously engraved with nuances. It wouldn't have been possible to produce an exhibition that is this extensive and this carefully prepared without the directions of the Dink family. With the addition of my team mate, esteemed artist Sena Başöz, into our team, we became a very good team. We meticulously made small videos out of the Hrant Dink Archive consisting of hundreds of videos, thousands of photographs. We worked elaborately in order to present many topics in a layered manner ranging from trust property Kamp Armen, where Hrant Dink spent his childhood, which was confiscated; the love between Rakel and Hrant, the story of Agos and the process where Hrant Dink was made into a target, leading up to his assassination as well as the murder trial stretching over a period of 14 years, which is planned to finalise soon.
Are there points where you believe this role has contributed to your production of art or your way of thinking as an artist? If so, what are these? 
NKB: I have learnt many things about how a person who achieved an important position in many people's lives with his character and peaceful thoughts and a trauma that etched deep into the collective consciousness of a society as well as a search for justice that has been going in since then can be reflected in a physical space. As someone who usually sets off from her own personal experiences and interpretations in her production of art, I developed an idea regarding how to approach a memory that was outside of my memory, which was something I felt hesitant towards before. This is a memory that does not only belong to a socially prominent person but also to the society in which this person is celebrated. I hope I have been able to gain perspective from such a plurality. I benefited greatly from the opportunity to work closely with Dear Sarkis, his approach to emotions such as pain and contemplation, and his way of thinking while transforming a space. And I gained perspectives regarding the transformative power of art beyond its place at a gallery or museum, in the bridge between the living and the inanimate.
I make a point to approach my responsibilities at the project in the way I know how, as an artist. Naturally, among the busy schedule and fatigue, my two jobs sometimes mix together heterogeneously. However, I sometimes experience that this separation is good for me.
Below: 23.5 Hrant Dink Site of Memory, Istanbul, photos by Hadiye Cangökçe
This project is also valuable for emphasizing the social and transformative side of art. Can you tell us a bit about the curation and workshop phase of 23,5 the Site of Memory? What kind of talks (or other activities) took place online in 2020 as a result of the pandemic?
NKB: As I mentioned before, the curation phase went in coordination with the Dink family. There was not a singular curator, and I think it wouldn't have been possible to have one. Opening up a space where someone was made into a target and killed, in the country where he was killed was like swimming in muddy waters. On the one hand, we had a responsibility to convey the whole truth without leaving anything out; on the other hand, we needed to show the sensitivity to take people's arms to accompany them when the truth was too heavy. While discussing matters which made Hrant Dink into a target, the family made their decisions meticulously by going over them one by one at the cost of reliving the pain.
We were in agreement that when the space opened, it should be a space that is alive. We aimed for a space that does not give the information in a didactic manner, and we formulated the workshops that will turn the space into a living place by paying attention to element. Nayat Karaköse is continuing to talk online in the Sites of Memory Webinar every month about the memory spaces which face different difficult histories in the world that she visited during the course of two years in preparation for the project. I also give an online workshop titled "Hrant Dink'in Çalışma Odasından Ermeni Kültürü ve Tarihine bir Bakış" (A Look into the Armenian Culture and History from the Study of Hrant Dink), the content of which is prepared by Sena Başöz. It is a different source of excitement and responsibility for me to be talking to people about Armenian intellectuals and Armenian culture. In the following months we will hold talks with different experts on topics such as memory and counter monuments.
Below: 23.5 Hrant Dink Site of Memory, Istanbul, photos by Hadiye Cangökçe
Who are the artists that you are interested in and follow?  
NKB: As I have been reading up and studying on sound and balcony for a while, I mostly follow people who work on sound. Experimental musicians, vocal artists and the hauntology music genre pique my interest. 60 sound artists protest the war
Nevin Aladağ, Füsun Onur, Cevdet Erek, John Cage and Susan Philipsz are some of the people whose work I keep revisiting these days.
Above: Balcony sounds, 2021, mixed media on photograph
Are there any projects you are currently working on? Do you have a studio where you work?
NKB: Up until the months when I was able to go out onto the balconies, I made balcony visits and performed deep listening exercises in balconies of various shapes in different neighbourhoods. I am working on re-converting into sound the patterns I get after portraying the sounds that I listen to onto papers of fixed size using different paints and pens that I have assigned to each sound. Also, I started to work on a series for Faz Kolektif and Fail Books, which I will make out of the photographs I have recently taken. The book of the Arter Research Program which was finalised during the start of the pandemic will be published soon. For the book, I worked on sprite graphics, where I separated the photographs into different layers with an augmented reality software that I used for the first time, which I then combined with sounds I recorded at different periods of time. I want to keep working with this software in the future as well.
I have not opened up a new space after I closed down my studio in Kadıköy. Separating my life into three spaces as work, home and studio was too hectic for me. Now I have a working space in the mezzanine of my home, which makes me happy. As an artist who struggles with her tendency to compartmentalise art and her daily life, it influences me positively to be producing art in my home. I also have items and my pervious works from my old studio in a container in Gebze. Even though I never visit it, I feel like my studio expands over multiple spaces as I have parts of me there. However, cutting my cord with my previous work one day with a desire for a minimalist life does feel inviting.
Above: Studio View, Neslihan Koyuncu Bali