true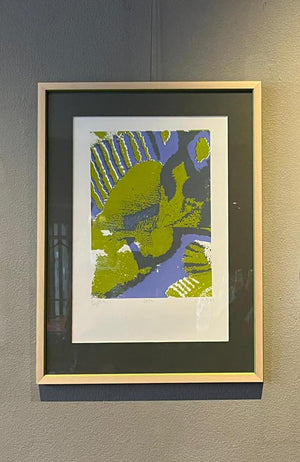 Following Steps of Etel Adnan by Zeynep Kaynar
Following Steps of Etel Adnan, from thread to paper II, Zeynep Kaynar 
From thread to paper edition prints inspired by the relationship between painting and cross stitch works in alignment with the language studies of SAPP.

Kaynar studies visual data in her studio practice to establish a structural method for abstract visual language with similar approaches to learning a language to communicate and maintain daily tasks. With her artworks depicting the result of her visual analysis adapting abstract visual language, Kaynar refers to linguistic sensitivity, and cultural diversity that is inspired by her experience of the national and minority languages existing and spoken today in Finland.
The print comes in 33 editions with two variations printed with the serigraphy method at Kalasatama Seripaja in 2022 on A3 Munken paper.
If you're interested in purchasing the work please follow the 'buy now' button below which will direct you to our purchase page generated by Square.
Following Steps of Etel Adnan, from thread to paper II by Zeynep Kaynar
£229.00
Buy now