About Meltem Sahin 
Meltem Sahin is an illustrator/ animator from Marmaris, a small sea town in Turkey. She studied Graphic Design in Ankara, Turkey and is a second year MFA Illustration Practice Student with a Fulbright Scholarship at Maryland Institute College of Art (MICA). In 2013, her work has been chosen for one of the most important international event dedicated to the children's publishing, the Bologna Children's Book Fair's annual book. In 2015,  she has been awarded with MICA Graduate Research Development Grant to go further on her projects that incorporate electronics and Arduino. 
You studied Graphic Design in the Fine Arts Department of Bilkent University and then received you MFA in Illustration Practice at the Maryland Institute College of Art, Baltimore. How did your MFA courses help shape your work? What kind of experiences you've been through finding yourself in the world of contemporary art?
After graduating from the department of Graphic Design, with a first class honors degree, I created illustrations for journals such as Sabitfikir, Bantmag and Trendsetter for 1-2 years. I also illustrated childrens' books for Can Publishing House. Afterwards, I completed my master's degree at the Maryland Institute College of Art (MICA), where I studied on a Fulbright scholarship. Before I went to MICA, my whole goal in life had been to be a really good children book illustrator. The full name of the department I was studying at MICA was "Illustration Practice" where I learned that the illustration does not exist only in two dimensions, as GIFs, kinetic sculptures and toys are also included in the practice. I think that this shift in my mind about illustration shaped my art and freed me from most of my limitations.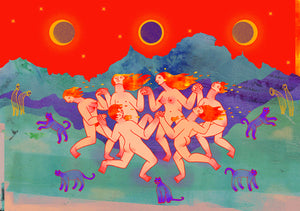 Above: Meltem Şahin, Witches with luminous heads, May 2020, digital illustration

Which cities have you lived in before? And how did it affect your art practice?
I have lived in Marmaris- Muğla, Ankara, İstanbul, San Diego and Baltimore. I was born in Marmaris and raised in Marmaris until I went to college. I learned to respect nature in Marmaris and I believe primitive and naive part of my art comes from my childhood and nature in Marmaris. Ankara is where my intellectual background was shaped. Ankara taught me order and research. In Istanbul, I learnt chaos, diversity and pain. Istanbul has deepened the emotions in my artwork conveying and amplifying the meanings behind it. Lastly, Baltimore taught me to protest, to object, tolerance, acceptance and feminism.
The figures in the visuals you create are playful creatures that seem to be dancing or floating. How do you describe these figures? How does movement function in your work?
With my illustrations, I attempt to create a language that may not necessarily imitate real life's supposed appearances, which entertain and alienate individuals from their own existences, instead I create figures that have a humanistic, and sensitive approach without any specific race, social status, sexual orientations or qualifiers of beauty. Yes, I think they are playful with their movement and colors but they are also floating in space with their calm, soft, and serene expressions.
Animation is the art of motion. When I started creating animations for the first time, I tried to achieve the naive, sketched, flawed, more improvised nature of my illustrations to transfer the "imperfect" style in my drawings to animations, I try to create movements as if they are not finished, as if they are shaking, as if they are self-investigating.
When I imagine how the character I created will move, it always helps me deepen my feelings and ideas about the character. In order to animate it, I need to decide what the personality of the character is and how it affects its movements.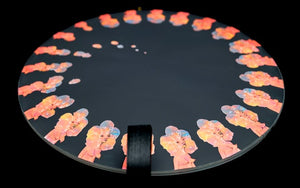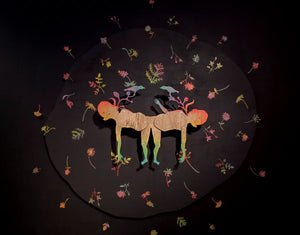 Can you give us an overview of the development of your art practice over the years. Is there any memorable project/exhibition(s) that you regard as a milestone in you artistic journey?
When I was studying at MICA, I have met Paul Mirel who was a visiting engineer from NASA. He was teaching electronics and Arduino to art students. At high school, my focus was science and I have always loved physics. And thanks to Paul, I finally found a way to combine my art and science. After I took his class, everything changed for me, I even shaped my graduation exhibition "Negative Pleasure" around the techniques and technology I learnt from him.
Below: Meltem Şahin, dionysian, IG Face Filter, https://www.instagram.com/a/r/?effect_id=2123852091254240
Above: Meltem Şahin, Kukla & Vinyl Zoetrope from Negative Pleasure exhibition, 2016
How does AR technologies impact your work? Can you talk about the IG face filters that you create?
Augmented reality adds digital content and information onto the physical world we are observing. Augmented reality viewed with smart devices adds new layers to the pieces we see with our naked eyes. For instance, the "PMS" exhibition I curated was an augmented reality exhibition. There were posters created by woman artists about premenstrual syndrome. Thanks to AR technology, personal sincere experiences of women suffering this syndrome can be discovered not only in 2D static poster formats but also in the multi-layered world of augmented reality. It almost reveals another reality, a hidden gem.
Filters use AR technologies, and when they first appeared on Instagram I got super excited about creating them. After I thought more and more, they affected me on a philosophical level as well. The French philosopher Maurice Merleau-Ponty claims that the painter changes the world into paintings by lending their body to the world. This idea has always affected me as an artist. When I thought about that idea in the context of filter, I realized that now with filters not only do artists have this opportunity but the users of the filters have the chance to become an art as well.
Filters give new make-up, costumes, and physical appearances and even new identities to the user. It creates new alter egos that you can choose from. What struck me most about the filters is the performative side of the filters. Filters are nothing without the user, they live with the people using them, and changing drastically with the mood, usage and the movements of the user. They are ephemeral, re-born each time when a new user uses them.
Do you collect any objects as an artist?
I have been collecting vintage kinetic toys for the last ten years. Since then, I have started creating kinetic toys and sculptures. At first I collected them to learn from the mechanics of the toys. In time, it has become one of my obsessions.
And also I love collecting limited edition prints. It started after I earned my master's. Everyone in my class traded their own prints with each other. I also collected a lot of print from comics, art and zine festivals.
Do you engage in collaborative practices from different disciplines, such as writers?
It gives me great pleasure to visualize the words of other people, to try to understand their minds and to create images by filtering what is given from my socio-cultural codes. Writing and painting in picture books deepens the experience of the reader with the book, both with the same importance of assertions and nuances as well as creating different layers. Although not every slice can reveal itself for the first time, this lack of disclosure causes new pleasures that may arise when the reader looks over the book again.
Also for my animations, I collaborate with a musician friend of mine, Mert Kocadayı, who is doing his master's in Contemporary Music at Mozarteum University in Salzburg, Austria. His music improves my animation, the movement in my work improves his music. Through collaboration we were able to carry each other's work further.
You're also the founder of an app named 'mindhood'? How did the project emerge?
mindhood is a talent development platform for startups. As mindhood co-founders we believe that collective intelligence will be the key to overcome the challenges that we face. So the question that we are tackling is how we might help organizations build routines in their culture that enables a growth mindset and cultivates trust in relationships that unlocks human potential.
We experience organizational failures all around us and we need to fix the organizational culture that crushes human creativity, and causes toxic relationships. This is mindhood's mission to help people to do fulfilling work.
What role does criticism play in your work? Can you tell us about the work "Breaking the Gaze"?
During my Master's, I wrote an article "Haram of the Harem; Erotica of the Ottoman Culture" for a seminar class. It was about the huge difference between the depictions of Harem women during 18th and 19th century produced in the East and West. The imagery of eroticism was a commonality among them, however, the usage was antithetic. While the West saw women of the Harem as passive and languorous, giving spectators the pleasure of entering a forbidden place, the East (especially the art of Levni and Buhari) depicted women there by choice, not because they were locked in Harem. "Grande Odalisque" by the French Orientalist painter Jean Auguste Dominique Ingres is a perfect example of a painting depicting women of east as the fantasy of west. In the painting, she is lightly dusting herself with feathers while she looks over her shoulder at the spectator with absent eyes knowing that she has been watched through the male gaze. "Breaking the Gaze" is a parody to "Grande Odalisque". As the name suggests with that drawing, I want to break that male gaze, by putting eyes on her body and making the viewer uncomfortable. Breaking that binary pleasure bridge of passive vs. active, viewed vs. viewer, desired and desiring was my intention creating that drawing. Unlike the enlightenment concept of criticism fueled with white male dominancy, I would like to use critical thinking, which I feel is more dialectical in nature.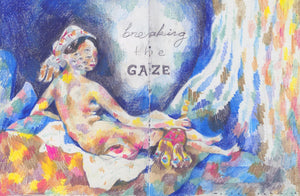 Above: Meltem Şahin, Breaking the Gaze parody to Jean-Auguste-Dominique Ingres' Grande Odalisque, 2014
Right: Meltem Sahin, PMS, gif art, 2016
What's next for you? Feel free to share any of your future plans such as exhibitions, residencies or collaborations.
4 months ago, to assuage my fears during isolation, I started a project called #myquarantinefriend. Keeping in mind the leisurely tempo and calming nature of the activity, I decided to create my friend by sewing beads. When it's complete, I'll have a life-size companion. My friendship with my quarantine friend began during the creation process and will continue afterwards.
Last June, I attended 4 virtual exhibitions. One of them was part of Wrong Biennale and my pieces were shown both in a virtual gallery and in an actual gallery space in Tokyo, Japan. This month will be more about thinking, and trying to attend exhibitions, as well as sending my works to different blogs and websites. And more importantly, I let #myquarantinefriend down, because of all these exhibitions. I am hoping to finish my friend at the end of August.
Currently, I am creating works for "STAY SOFT", a London based zine. During quarantine STAY SOFT is intended to be a visual meditation on restriction, expansion, softness and hardness experienced by the (female) body. The zine will contain content of approximately 12 women exploring their personal understanding around the idea of staying soft and what it means to them through different mediums.
"Snow White Princes and Sleepless Beauties" is a mix-and-match book we created with "Incomplit" which is a social impact oriented, participatory design studio. We know that from an early age, children learn stereotypical notions of what it means to be a girl and what it means to be a boy. In efforts to break-down rigid, inequitable gender stereotypes and promote diverse and positive expressions of gender identity, we're happy to share this collaborative mix-and-match book that is on pre-sale on Incomplit's website. The book is the fruit of a workshop, that I facilitated, as a part of Incomplit's 'Gender Equality is not a Fantasy' workshop series. All the drawings are the 's/hero artworks' of the children who attended. All profits from the book will be given back to the children's community.
You've curated a group exhibition titled PMS. Can you tell us about this curating experience?
PMS featured the work of 22 woman artists as they share their perspectives on premenstrual syndrome. Self-identifying as an augmented-reality exhibition with an emphasis on utilizing GIFs, attendees could download the "PMS Augmented Reality" app and interact with the various works in a unique, personal way.
Artists from the exhibition were from the USA, China, India, Taiwan, South Korea, and Turkey. During my master's education in the USA, I received a university level teaching certificate and assisted in 4 different courses. Through preparing students for exhibitions, my curating experience has improved. Personal exhibitions that I curated have also had a big impact. The subject of the exhibition, "PMS" was born from a need and a need for me, especially after returning to Turkey from America with my enlightenment on gender issues there. "PMS" emerged from the need of an area where our humanity is embraced, the emotional changes associated with women, and even hysteria, are embraced in this world where our humanity and from issues such as violence against women and rape is pushed into the background.
We live in a country where even sanitary pads are supplied in a black bag, where a child with a period is slapped to "recover" when she shares this with her family. Therefore, with this exhibition, I wanted to share the crises and hormonal fluctuations that women experienced before menstruation, and to create a dialogue around these issues mostly not spoken of in this geography.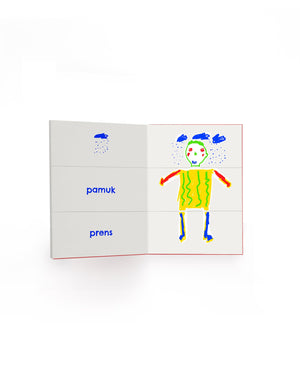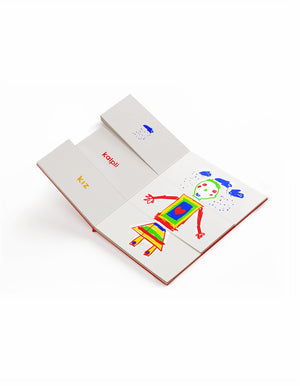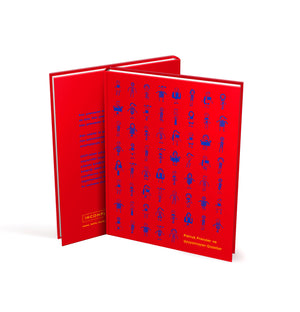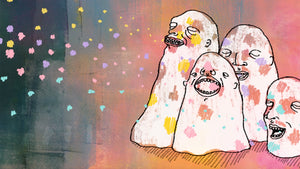 Above: Snow White Princes and Sleepless Beauties, A Mix and match book project, 2020
Right: Frames from Flow, 2016, animation, 2:20
What role does research play in your practice? Is there any animation or GIF art that you have created after doing memorable, extensive research?
Most of my works are the result of extensive research. Most of the time, I create my artworks with the inspiration I get from what I read, especially aesthetics. For instance the animation "Flow" that I created during my master's is a birth of such research. The animation is inspired by Friedrich Wilhelm Nietzsche's book The "Birth of Tragedy", and specifically his ideas on Apollo and Dionysus. Apollo is the god of plastic arts, reason and rationality. Dionysus is the god of the chaos, emotions, instincts and music. Nietzsche establishes his aesthetic theories from the archetypes of Apollo and Dionysus and suggests, specifically that art is based on polarities and tensions rather than delight and imitation. His polarities are those of order (Apollo) and passion (Dionysus). The main character in this animation is a sculptress who travels through the Apollonian and Dionysian states. In the Apollonian world, everything is made of rigid lines, and there is no color except for the color of the main character, pink. In contrast, in the Dionysian world, she fuses with nature; she becomes transparent in the world that is made of shapes and colors. In travelling between these states, her art changes along with her character.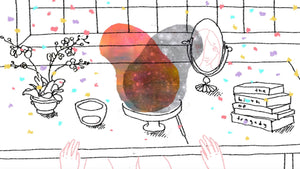 Can you name books the books that had an impact on your art practice?
At high school I remember buying James Ensor, Paul Klee and Joan Miro's art books by Taschen books. I think they changed me, and my art forever. Also at that time I was reading Nietzsche, Schopenhauer, Salinger, Sartre, Beauvoir and Camus. They pushed me into the edges of melancholia and I enjoyed the pain and pleasure at the same time. At college, the two books that affected me most were "The Diary of Anaïs Nin" by Anais Nin and "Camille Claudel" by S. Ficher. They affected how I see myself as a woman. And in my adult life, Deleuze, Heidegger, Ponty and Hegel's ideas have had a huge impact on how I approach my art. Today, I have just finished reading "Ecofeminism" by Vandana Shiva and Maria Mies and I have learnt a lot from it.
Below: Meltem Şahin, Collective headsciousness, GIF art, May 2020, Edition of 3
Meltem Şahin, Armpit Lover I & II, GIF art, January 2020