About Mehveş Leliç 
Mehveş Leliç (b. 1990, Istanbul) is an artist and educator. She received her B.A. from the University of Chicago. Her work has been exhibited and published internationally, in venues such as the Rotterdam Photo Festival, Cosmos Arles at Recontres D'Arles, the Ogden Museum, Filter Photo Chicago, Academy Art Museum, Institute of Contemporary Art Baltimore, the Photographers' Gallery Istanbul, Akbank Sanat, and Mamut Art Project, as well as prestigious print and online publications including the National Geographic, Geo Magazine Turkey, Der Greif, Ain't Bad Magazine, Lenscratch, and Aesthetica Magazine. She has been awarded the National Geographic Expeditions Council Grant, the Turkish Cultural Foundation Cultural Exchange Fellowship, and the City of Chicago Individual Artists' Grant. She lives and works between the US and Turkey. In June 2020 she is matriculating in the Bard Photography MFA Program.

About the Series Ex-Terra I Artist Statement 

This series explores the volatile and visceral relationships humans form with interior and exterior spaces. Through compositing and negative sandwiching, the photographs delimit or visually disrupt the limited and potentially constraining domestic space. Some of the questions these disruptions aim to invoke are, what are the visual manifestations of domestic, alien, assimilated, adopted, and inherited, in one's inner and outer worlds? How do these worlds converge, and how do they separate?
The work, as well as the process, emerged from the personal experience of early motherhood and making a home. Interested in the visual signifiers that define and invoke these experiences, I composited personally significant scenes, objects and symbols onto each other, therefore including both the aforementioned inner and outer worlds within each frame, aiming to express fluid and complex transitions.
Ode To My Mother I, Mehveş Leliç 
You interweave the limits of interior and exterior spaces in Ex-Terra series. How do you examine the relationships between human and spaces?
I try to prescribe sentiments to interior space. The comfort of home is definitely an important theme, however, sentiments that disrupt that comfort are also of interest: desire, self-idealization, sheltering. I am also trying to explore how someone might experience the exterior, and how returning home might alleviate that experience. Some questions I ask are, are exteriors daunting? One important thing to note is that I learnt how to drive in my late 20s. When I was working on this project, I had been experiencing exterior space mostly as a pedestrian, or in public transit. Now I live in a town that is not very pedestrian-friendly, so that interior/exterior dichotomy seems a little alien to my current situation, where I leave my apartment to get in to a car, which is also an interior space of sorts.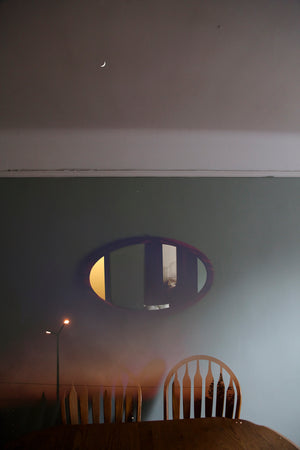 Can you give us an overview of the development of your art practice over the years. Is there any memorable project/exhibition(s) that you regard as a milestone in you artistic journey?
I'd always been drawn to the medium and I was fortunate that I was able to take a class at an early age, in high school. I worked for a number of student publications in college and went abroad on mostly documentary projects shortly after. I believe categories such as documentary, conceptual, fine art, etc. are misnomers but at the time it felt very much like I was pursuing an expository outlook because I was on assignment.
I did a residency in 2015 in Provence, at Fourwinds Atelier with support from the Turkish Cultural Foundation. I was transitioning out of a long project I did for the National Geographic and I was looking for some threads to grasp onto, thinking about truth in photographic representation. I was also processing some major life changes – I had just become a parent. There I started experimenting with overlaying images and that determined a very long-term trajectory without me realizing it at the time.
The idea of home also has a significant focus in your work. Is it connected to your personal history?
Maybe. I think home is one of those ubiquitous themes that surface even when you are not making work about home. I have been interested in mining my experience as a Turkish immigrant to the US, and the daunting aspects of the process in which an unfamiliar place becomes a home. I think my focus on home is a combination how that experience creates a visually hyphenated world, and my interest in modernity and heritage, and how the two interact. Home is a battleground for that interaction.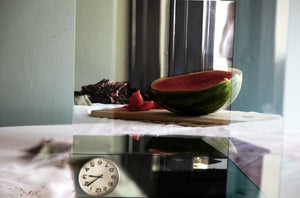 Who inspires you as a photographer?
This is a tough one! I have lately been interested in photographers who transcend the two-dimensional or surface-based nature of the medium. So maybe "artist" is a better word, although these categories have become irrelevant, in a way. I have always loved Graciela Iturbide. I have been looking at the work of Sara VanDerBeek, Aimee Beaubien and Guanyu Xu lately. I loved Larissa Araz's installation at the SAHA Studio Residency, which I have been following on Instagram! I also like Zeynep Kayan and Erdem Varol's work a lot.
Is there any memorable trip that has an impact in your photography?
So many. The road trip has an important place in the history of photography, so I think all of the trips I ever took have been formative. The Trans-Mongolian, which I took relatively early in my career as a photographer, was interesting, as was a road trip through Rwanda. Recently I drove from Rome to Sicily for a dear friend's wedding and took in a lot of changing faunas and realized taking photographs from the window of a moving car (on the passenger side, of course) had become second nature.
Do you have any exciting projects coming up? What's next for you?
I am making a so-called portrait of a place on this city in Maryland: Ocean City. It is a resort town. It is possibly Maryland's most populous city in the summer and completely deserted in the winter. I am exploring the entertainment architecture when it's not in use, I guess.
Alongside your career in photography, you're also an educator. What do you enjoy about it the most?
I like the clarity I gain when I am able to pull apart complex issues about photography. Often when we think about photography as an art form the fact that it has become such a central aspect of our communications and representations of reality takes a back burner. Making that connection is valuable.
I also enjoy the diverse group of students I usually get. Some are already deeply entrenched in the medium, and some have never used an SLR before. Finding ways to keep these various levels engaged while introducing great works and critical texts is a welcome challenge.
Are there any books that change the way you look at photography?
I really liked the novel Talent by Juliet Lapides. It doesn't focus on photography as a medium, but it does explore the relationship between talent and output, as well as the restrictive nature of the reception of artwork by others: viewers, critics, art historians, and the like. It is also one of the wittiest books I have read in a while.
I also love In Praise of Shadows by Tanizaki, Scopic Regimes of Modernity by Martin Jay, and In, Around and Afterthoughts by Martha Rossler.