Leyla Kefeli 
Leyla Kefeli is a graphic designer/ illustrator based in Istanbul. She has received her BFA from Pratt Institute in Communications Design, with a graphic design emphasis. She had work experience in design agencies and studios, both in Istanbul and New York. After her graduation, she worked as a freelance designer for Nickelodeon's brand digital team, developing media content for television shows for various applications and social platforms. 
She is currently working on freelance projects, specializing on branding, logo design, editorial design, packaging design and illustration. Leyla is highly passionate about sharing stories that connect people with culture, spaces, and build relationships. She believes creating is about sharing. Using the human touch, she aims for communicating through textures, line work, and genuine expressions. She enjoys storytelling through taking her own photographs, building up narratives, and forming an illustrative and graphic language.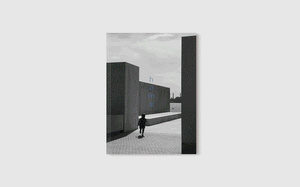 You studied graphic design at Pratt Institute. What kind of experiences you've been through finding yourself in the world of graphic design?
Before starting my design education in college, I would feel like I would have to decide on one particular subject on which I would focus all my energy and concentration. I loved designing, developing a visual language, however I also loved to draw and write. As I began my education as a graphic designer, I started to embrace more of keeping illustration as a part of the work I created. I allowed myself to play and enjoy the process of forming multilayered designs, in which hand made patterns, textures, and line drawing enriched my work. Recognizing that I can embrace multiplicity gave me more freedom to create. I now enjoy to build designs in which illustrations play an important role. Whether it is a packaging design project or branding, it adds value to its character and authenticity.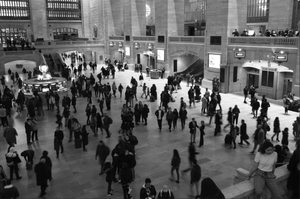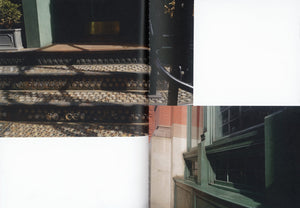 Can you talk a bit about the book design project "Home"?
Home is a collective exploration, a visual archive with narratives of photographs and conversations that are interwoven throughout the book. The idea came, as I began thinking about the changing nature of environments, and how people interact with their spaces. I wanted to portray the thought of "where do we call home?", searching for what factors of a place make us feel secure, comfortable, connected, as well as make us encounter a wide range of senses. The book carries a conversational flow through interviews with architects, social activists, urban planners, that are weaved with photographic representations.

Can you name 3 essential elements that make design attractive?
I find designs that are authentic, coming from a unique, personal approach, very appealing. I view having a genuine and intimate language that truly comes from pure joy and playfulness, as one of the key ingredients to make work very inspirational. I also find developing clear solutions for concepts, using minimal elements to support an idea, very aspirational.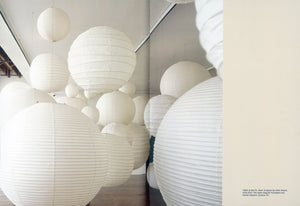 Your illustrations 'World Festivals' revolve around several festivals that are celebrated in the world. How did the series emerge? Which festivals have you decided to depict?
Reflecting on how festivals are celebrated by large groups each year, and how rituals are an inseparable part of communities, I started to ask how I can come up with a new approach to inform a wider audience about the content of a number of festivals. The project would allow to reach and reconnect people across various geographies, engaging them with other cultures. I researched the historical backgrounds, and the activities performed throughout the celebrations. Through a more simplified approach, I developed a visual language for each cultural event. I selected three main festivals, which are the Diwali (The Hindu festival of lights), La Tomatina (Spain's tomato-throwing festival) and the Venice Carnival. With their distinct energies, each festival would reflected its own characteristics through their color palettes and stylistic components. The postcards are designed to narrate important scenes that are essential for the festivities. Sending postcards to loved ones, or keeping them as a collection, there are multiple ways to show participation and honor these special gatherings.
How do your projects relate to food industry? Do you have a special interest in gastronomy?
I got to experience the celebration of food in many areas of life, while being raised in a family and region with a rich food culture. There is a strong desire to share and cultivate through ingredients, along with a careful preparation process. I also love cooking; for me it is a very meditative practice, using my hands and transforming the ingredients into something that is both visually very pleasing and nourishing for my body. I have been researching and reading about wellbeing, mindfulness and nutrition for a couple of years now, which has also contributed greatly to how I think about and prepare my food. Through my projects, I was able to redefine how food is perceived in various contexts.

What's your motto in life?
Be present and try to stay with the moment. It is important to show up each day for yourself in your creative space. Make, share, explore, experience and welcome all that life offers.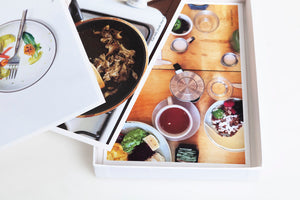 Is there any recurring theme/question in your design practice?
There is a good sense of archiving, collecting objects, moments, fragments of ideas, that is present through my work. I am inspired by how people connect through art and creative expression, a concept that highly influences my practice. I aim to create designs that inspire people to get more in touch with ideas and the world.
Do you collect any objects as a designer? Do you make any kind of collection?
I have a small collection of museum postcards that I have started collecting for a few years now. Each crafted uniquely, with different paper textures, designs, serve as a beautiful reminder of a particular exhibit. It is interesting how a single image can powerfully retrace many emotions and ideas of certain moments and spaces. I also love collecting decayed leaves and flowers with different textures, forms, that I often use in my personal projects.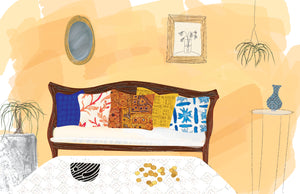 Are there any books that changed the way you look at art?
Big Magic by Elizabeth Gilbert was a wonderful read, that I felt connected to when reflecting on my creative journey of building, crafting work, and looking for inspiration. Steven Pressfield's War of Art, is also a very mindful read that examines the power of procrastination in life, and how it can be consciously redirected. I have a good selection of design books that I use as referential guides whenever I need inspiration or look for a different perspective.
Who inspires you?
I am inspired by my friends who are artists, designers, and creators from all different areas of life. I am very inspired by my mom, who is a printmaking artist with a gift of transforming things into something beautiful. People who are greatly inspirational for me are those who seek to find a spark from the ordinary and find delightful ways of presenting them.