Didem Erbaş
Didem Erbaş (b. Istanbul, 1985) lives and works in Istanbul. Her art practice varies from installation, site-specific installation, painting and drawing to video. She is interested in socio-politic issues of her country and deals with issues such as housing, geography, tracing and transforming the space. In her artistic practice, she often tries to make associations between her paintings and the objects she made or found. Rather than using solely the two dimensional surface of the canvas, she experiments on activating the three-dimensional space using the sculptural qualities of certain objects, together with their potential mnemonic ability. 
Didem Erbaş received her BA in Painting from Mimar Sinan Fine Arts University and her MA in Visual Arts and Visual Communication Design at Sabancı University.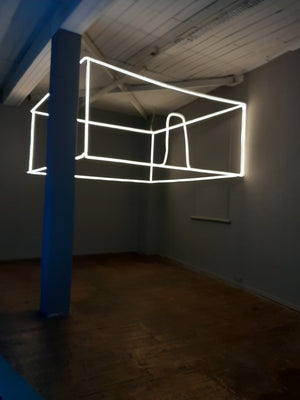 What kind of experiences have you been through developing your art practice?
I studied painting in the fine arts department of Mimar Sinan Fine Arts University and then studied Visual Arts and Visual Communication Design at Sabancı University. Through the courses I took, I got the chance to experience the use of various materials in wood and metal workshop studios. After studying Painting in a more traditional sense, during my master's courses I started to think about three dimensionality, and experimented with working on three dimensional works and spatial works, which as a result, led me to shape my practice.
Is there any recurring theme/question in your practice?
I enjoy working with the various materials my work requires. It varies from installation, site-specific installation and painting to video works. I tend to gravitate towards working with materials that are shaped through the process of thinking and making. Because I work in various mediums, every new work/project elevates my excitement and triggers my sense of wonder.
At the beginning of this year, I exhibited an installation work in a group exhibition titled Up above was fog, down below was a cloud of dust that took place at Depo İstanbul. I made an installation of a shelter, which is designed as an unarmored structure combined with LED lights. It was the first time I had ever used LED lights in one of my works. The experience of using a new material gives me a sense of exploration and a sense of excitement..
Most of my work revolves around topics such as geography, housing, survival, tracing and the changeability of spaces.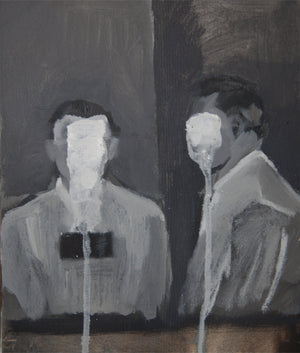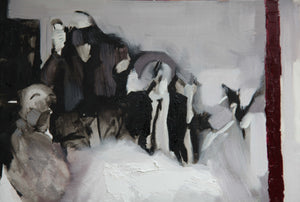 The blurry faces of the figures are unrecognisable in The Pogrom Series and Guilty Series. Who do these faces refer to?
I made the oil on canvas paintings of the Pogrom and Guilty Series, between the years of 2013-2015 based on the issues that I was interested at the time. I created the works in The Guilty Series, inspired by Franz Kafka's book titled In the Penal Colony. These works aim to question anonymous identities through ambiguous representations of them, tracing to identify the guilty figure. Accordingly, unidentified portraits with blurry faces are represented in this series. I created the Pogrom Series in a similar manner, referring to The Istanbul Pogrom of September 6/7, also known as Istanbul Riots against the Non-Muslims of Turkey. Utilizing some of the archival photographs of the incident, I intentionally blurred the faces of the figures in my paintings. In both series, I dealt with the same issue from different perspectives.
Do you collect objects to use in your work? What are the roles of objects in your work?
I usually collect things that I find in nature and gather them up in my studio. I usually take my time to study the objects in order to be closely acquainted with them. In this way, the objects become more familiar to me as a part of my daily life as well as part of my works in the due course.
Are there any memorable projects/exhibitions that you regard as milestones in you artistic journey?
I did a residency titled Arte Util/Useful Art in 2013 at International Summer Academy of Fine Arts in Salzburg. Exchanging opinions and discussing issues, based on given texts with a group of 15 participants, turned out to be a fruitful process, which had helped me to develop my practice theoretically. Though I wouldn't define it particularly as a milestone, the residency contributed greatly to my practice and to my way of thinking.
How does the place that you live in affect your art practice?
It's highly significant for me to observe the place I'm living in and take visual notes out of these observations. The place I live is an important factor in forming my art practice. Observing, collecting, creating and walking around the place I live in, these are all relevant to how I reflect sociopolitical and environmental issues in my practice. Every place I have lived in or every place I've been to has contributed to my work as visual notes.
Do you collect any objects as an artist?
Though I didn't intend to make a collection, in time, I've collected a fair amount of second hand dolls. Some of them are fragile, made of porcelain and some are softer, made of plastics. All of them are attired with traditional costumes that are idiosyncratic to their countries.
Lately, who inspires you as an artist?
Lately, I've been following Andrei Roiter who depicts minimal and ordinary objects. I'm also interested in Roland Boden's works that are based on dystopian architecture. Aside from contemporary artists, I'm also influenced by drones, bunkers, satellite images, enginery and architecture.
Do you have a studio? Can you tell us a bit about your life in studio?
I rented a studio two months ago. It's located in a site, which is within walking distance of my house. Lately, I've formed the habit of monitoring the manners of the occupants of the site, about whom I make daily notes, in 'The Occupants' section, as a separate part in my notebook. For example, one of the occupants constantly gets annoyed of trays of cat food in the yard and moves them away. Another occupant prefers to make all of her phone conversations on the front of doorstep of the apartment building. There are lots of cats inside the apartment building. Moreover, the building manager allows one of the cats to stay in the side store of my studio. The cat's like my next-door neighbor, who plays in the garden all day long and stays inside all night long. She visits me everyday, getting used to drinking her water in my studio.
Can you talk a bit about your recent projects/exhibitions or postponed plans? What have you been working on lately?
There were three different exhibitions that were planned to take place throughout the year. Due to Covid-19, they will be pushed back. Through my days in self-quarantine at home, I have turned my house into a working space, using two desks and a wall. Lately, I've been working on new works using ink and watercolors. I experiment with different colors and materials and also carry on my previous charcoal drawings. For now, my work unfolds spontaneously, inspired by each new day. And I like to keep it up as it is for a while.