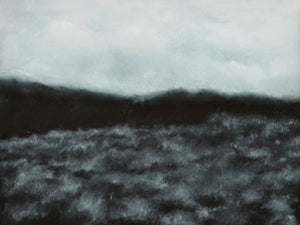 The subjects of Cemal Nazım Arslan's works come from the nature. He is a multidisciplinary artist who abstracts images of nature through cultural identity and searches for various forms. He creates a kind of sensation which identifies the developing and renewedthoughts brought by the contemporary world with the nature. He often describes the nature without man. In his works, he reflects a dramatic atmosphere, a spiritual state and a self-directed perspective with the use of light and dark colors. Cemal Nazım Arslan graduated from the Painting Department of the Faculty of Fine Arts at Dokuz Eylül University. He completed his master's degree in Art and Design Departmant of the same school. He continues his education in Philosophy Department of Anadolu University and continues making his works in his own studio in İzmir.  His work has been exhibited at Galeri Zilberman, K2 Contemporary Art Center Gallery, Ahmet Adnan Saygun Art Center, Mamut Art Project and Base Istanbul.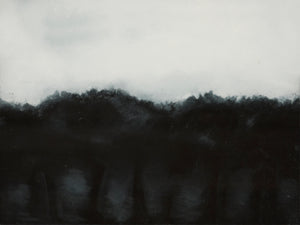 What were some of the exhibitions/projects that have had an impact on your practice of art which you could not forget?
The ones that give the most pleasure are the exhibitions where we work collectively with my artist friends. And I can say I always learn things from the exhibitions that I go to. First of all, I pay attention to the design and presentation of each exhibition that I attend. Then I carefully examine each and every work of art of the artists presented there. The deductions I take away from these exhibitions are always illuminating for my own work.
Where do you live at the moment? Do you think the environment/city in which you live has an impact on your practice? If so, in what ways?
I live in Izmir and I continue practicing my art here at the moment. Wherever you are, you cross paths with the thing that shapes you and gives you pleasure to look at. For that reason, in my practiceo f art, I try to make use of the chances offered by the environment in which I live. However, this isn't necessarily confined to the space where I live; influences come from a range of channels, particularly from the digital world. The pandemic process is a very good example of this. The four walls we have been surrounded by in this process have become an important factor that has had an impact on productivity.
Who inspires you? Can you name some of the artists and books that have changed your perspective of art?
There are artists who practice many different forms of art including books, films and others. Works of art created by numerous artists including Katsushika Hokusai, William Turner, Caspar David Friedrich, Edward Hopper, Yves Klein, Richard Serra, Peter Doing, Doug Aitken, Francis Alys, Olafur Eliasson and Doris Salcedo have influenced my practice of art. The compositions created by Ingmar Bergman in his movies are also very inspiring; the Seventh Seal and Shame are some that first come to mind. There is a balanced distribution of the visuals in each frame in his movies. I find the way Andrei Tarkovsky uses elements, especially fire and water, inspiring, along with this cinematographic genius. The movies shot by the Monty Python team in 1970s are cleverly designed and critical. When it comes to books, I usually prefer science-fiction and books of analysis. One of my favorites is the novella Behold the Man by Michael Moorcock. Recently, Cybernetics by Norbert Wiener helped me to gain a new perspective towards my digital work.
Are there any objects that you collect?
Tree branches that wash ashore and stones that I collect from the places that I go are very valuable to me. There are also found objects that I collect to use in projects. These objects serve as a reminder of an experience I had or as a key to remind me of that particular day.
Can you tell us about the future projects that excite you?
There are some new exhibitions on the agenda, so I am currently working on those. I am planning an international tour and hope to take part in two group exhibitions soon. Recently, I have been focusing more on my digital work.