About Belmin Pilevneli
Belmin Pilevneli (b. 1990, Istanbul) is a visual artist and illustrator. She received her BA in Visual Arts and Visual Communication Design from Sabancı University and MA in Illustration and Visual Media from UAL, London College of Communication. She lives and works in London.
Her work is often associated with texts and poetry, predominantly written by herself, expressing intimacy, love and a hope for psychological problems. She aims to compare the way people used to experience these feelings in the past and and the way they're experiencing them now. In her works, she is inspired by nature, poetry and human psychology. Intense feelings, intimacy and purity are the themes which she often visualizes in abstracted forms. Some of her works refer to pioneers of Classical Poetry in Turkey, as well as her admiration of Far East by glimpses of oriental embroidery. Combining her art and sense of fashion, she designs silk scarves and accessories. Recently, she has founded her own fashion brand.
She has been represented by Made in Arts London, Creative Debuts, Chrom-Art and her work has been exhibited at London Illustration Fair, 2016, First Thursdays - UAL Takeover, 2017, Tribe 17 - International Art Fest and at the exhibition Lost and Found in cooperation with UCLH (University College London Hospital). In 2018, her first solo exhibition titled Are You In Love? took place at Galeri Miz in Istanbul and her her solo exhibition titled Love Me, Love Me took place at Shipton Street Gallery in London. In 2018, her works were exhibited at Contemporary Istanbul, represented by Galeri Miz. Recently, her paper works were exhibited at Paper. A Selection of Turkish Contemporary Art at Pilevneli Gallery, Art Ankara Contemporary Art Fair (Galeri FE), Step Istanbul (Büyükdere 35 and Paper Street Co.) and at a group exhibition named Lost In The Highway at Soho House Istanbul.
What ideas do you explore in your work?
In my work, I intend to discover intense feelings such as pain, purity, love, absolution and the emotional aspects of all that is happening in the world. Poems, psychology books, history books and my personal experiences guide me throughout this discovery. Sometimes I compare the present time with the past, or I try to create something new under the influence of the past. Recently, I have examined the fountains and the tiles that were built during the Ottoman Period in Istanbul. I have also read about the Legends of Anatolia. In my work, I often try to connect current daily life with the past.
How do you explain your art practice in 3 words?
Naive, abstract and slow.
Who inspires you?
The poems of Nazım Hikmet, Sabahattin Ali's way of depicting love, and Atilla İlhan's perspective on platonic love inspire me. My job is to try to make sense out of emotions. I create many of my works under the influence of these writers and poets. I believe that they are the best at depicting emotions such as pain, hatred and love.
Is your work connected to your personal history? In what ways are they connected to it?
My work inevitably reveals certain parts of my personality. I'm always open to experimentation so I often use different techniques. Initially, I was in search of simplicity when I was creating my work using different types of paper which I admire due to its texture and purity. In time, I decided to add new layers on the paper by using pencils. There are so many emotions I feel inside. I cannot organize all of them in my mind. Drawing meditatively helps me to align my emotions and thoughts in some way. It takes a lot of time for me to finish a piece of work, as I work elaborately and patiently I persevere with this due to my patience. There are times when I go with the flow and prefer to do spontaneous work by making quick decisions, splattering paint on paper. That's also a part of me that I keep in the background. I cannot understand artists who deal with a single subject or use a single technique in their work, yet I admire their dedication.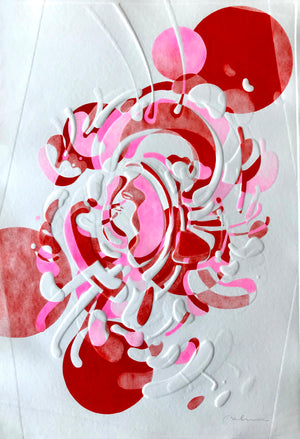 You completed your master's degree in illustration. What kind of experiences have you been through developing your art practice?
At the beginning of my master's degree study, I was interested in Digital Drawing. At the time, my educators appreciated my ink works on paper and suggested that I continue working on hand made work, focusing on the subject of the work rather than the work itself. They reviewed my work according to the dedication and the depth of the research. I was primarily focused on the message that I wanted to give my audience and the aim of my work. As I have experimented more on the subjects I have worked on, using different techniques and materials, I have become more satisfied with the results of my work. I applied what I've learned during my studies to my later works. In-depth research about the subject of the work and specific preferences for materials and tecniques according to the subject have a significant role on my projects.
What is your motto in life?
'Stay in balance' and 'be positive'
Is there any material you would like to experiment with in future?
I want to add new layers to the paper. Maybe I'll try weaving one day, who knows!
Are there any objects that you collect?
I collect business cards from restaurants and cafes.
Is there a book that changed the way you look at art?
'20. Yüzyıl Batı Sanatı'nda Akımlar' by Ahu Antmen.
Can you talk about your upcoming projects?
I am planning to making a solo exhibition at Rem Art Space. The subject I am working on for this exhibition is about purification and water as its symbol. I was also excited to be participate in the Step Istanbul and Fringe Art Festival which were postponed due to Covid-19.