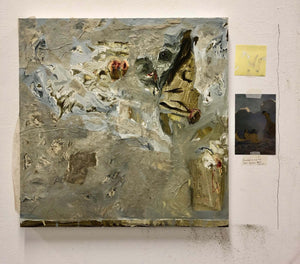 In Conversation with Selin Uyar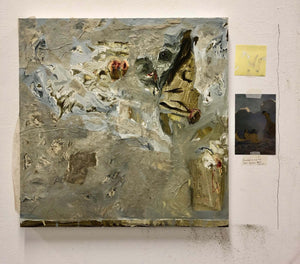 You're studying fine arts at Central Saint Martins. Can you share some of the highlights of your art education in London?
I come from a very rote learning-based education system that is why I soak up the advantages of teaching myself whatever I want to know more and more about. It is a privilege to not waste any time with some information I don't want to accommodate. CSM is very independent and you have to be okay with being an autodidact. You get no more or no less than what you ask for. Although, frankly, I sometimes long for to be taught.
Can you explain your art practice in 3 words?
Provisional, confessional and impulsive. 
You use weaving in some of your works. How is the concept of weaving placed in the context of your work?
The dissertation I've been working on is about the construction of female subjectivities. I refer to Penelope from Greek Mythology who uses weaving her shroud as an excuse to not marry a man she doesn't desire. Her weaving and unweaving do not lead to a finished product, an artwork, but instead refers to a self-reflexive quest in which the woman can weave her own narrative. The shroud is unwoven every night; the closure is in constantly postponed. In this sense, the journey, the quest for fining self never reaches a harbour.
In that way, it is hard to define my work since a static definition would serve as an ending point, yet it is not about the finished product, like Penelope's, like the unwoven jumper.
 What are the main ideas you are exploring in your works right now?
Deconstructive readings. The imagery of abstract language created with gestures. Either the body's or the brush marks' gestures have direct translation, they differ in essence on canvas even though they are the same gestures. That is why they are representing nothing but themselves. These concerns eventually turn out, me dwelling on negative spaces.
Is there any recurring theme/question in your practice?
Every single thing I make is mnemonic, like photographs. Instead of telling a story to make someone understand, I tend to hide behind. I like to use symbolism when I want to limit the audience. Maybe it's auto censoring or just the freedom of changing my mind to share it. It reminds me of the same process of unknitting again like 'unsaying what I just said'. Being fully understood by the audience isn't the greatest of my concerns, I guess. Not long ago I have come to realise that this is caused by my tendency to hide what I like to expose at the same time.
Are your works connected to your personal history? In what ways are they connected to it?
I sit down to make something without knowing the result. I'm gonna try to explain this in a metaphorical way again. I find myself trying to cast my mind back as my life was a dream. I feel like I just woke up, trying to remember and interpret the things I've seen in my dreams. I am chasing signs and clues, like Hansel and Gretel. Because when in the moment you are experiencing something, you don't realise much about how and what you are feeling. It is a second chance for me to sit back and watch myself. Investigation, experimentation and exploration. Tons of self-criticising. More like a dialogue with myself rather than a monologue or making a statement.
Who/what inspires you?
Tough one.
Sincerity is always dragged in without being inspiring, or anything.
But mostly subtle wit, black humour, misery and mystery. 
If I have to give names: Roland Barthes, Derrida, Strauss, Jung, Saussure, Persephone, Ana Mendieta, Janine Antoni, Nietzsche, Gertrude Stein, Plath, Özdemir Asaf, Nazım, the list could go on forever
Which cities have you lived in before? And how did it affect your creative practice?
I was born in Bursa and moved to Istanbul for high school when I was 14. In high school, I had the chance to take the IB programme and I undertook High Level Modern Art. Before that, I wanted to go to med school because I was good at math and formulas. I had that art teacher that shifted my perspective on life and art, also I had hemophobia J Joking aside, for me, it was a close call to embrace a career in art, as well as my parents were a little shook up at first but they were convinced in few years. I was relieved when I made the call. So, I moved to London when I was 19. Moving to London from Istanbul was an utterly different experience than moving to Istanbul from Bursa and diasporic art was unavoidable in my first few years in London, but I believe I have overcome most of the struggles of it and living in the best of both worlds. Status quo was never an option for me in the long run. Most probably that is why I am so inclined to disturb or deconstruct. 
What's your motto in life?  
I've been thinking about it for a week now, asking all my friends who knows me well. I don't think it counts as a motto but I would say 'sobriety'.
 Which material/medium do you want to experiment with in future?
I want to go for more spatial, maybe work-in-situ?
Any objects that you collect as an artist? / Do you make any kind of collection?
I like collecting 'blue's, just created an account dedicated to blue stuff I document. It's called @mais.boncrete
Do you have a studio? What's a typical day in the studio like?
There are studios in college, where we all have our spaces; other than that, I don't think I have a studio. I have this bedroom in Istanbul where I took the bed out of the room and called it a studio. I have a little corner at my flat's living room in London where I covered all the walls and the floor with plastic because I want my deposit back:) Hopefully, after graduating this year, I am planning to work in a proper studio space. I prefer paints, brushes and canvases. Even though I'm okay to produce anywhere anytime with anything I am surrounded with, to speak of paintings, I usually work during the night. It's something cliché, but it's the truth, no distractions :/ I'm working on it though…
Are there any books that changed the way you look at art?
'Chroma' by Derek Jarman and poetry.
Can you share some insight regarding your upcoming projects?
For now all I can think about is the degree show…