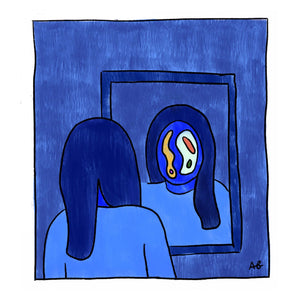 In Conversation with Alexis Gallo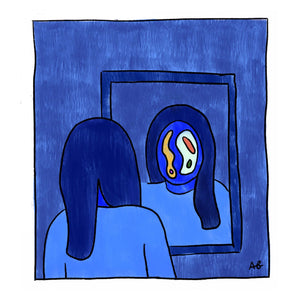 You studied graphic design at FIT. What kind of experiences you've been through finding yourself in the world of graphic design?
Graphic design has definitely encouraged my curious nature, I love that I get to dive in and do some research before I design, immerse myself in the unfamiliar. I've made a point not to get too comfortable in one job for too long. I'm like a rabbit going from garden to garden. 
Can you name three essential elements of design?
Design is always changing, which allows and encourages me to change what I look for in an attractive design. I'm drawn to designs that show confidence and feel intentional. I love when opposing elements come together to make something cohesive, like they were always meant to be together. Like this sandwich! I'm a sucker for a good salty, sweet combo. 
Is there any recurring theme/question in your design practice?
I always seem to incorporate some type of distortion in my work. I like to play, flip things around, deconstruct. I have a pretty child-like approach to art and design–I start off experimenting and make sense of it all later. 
Who inspires you?
I've been listening to a lot of Helado Negro lately. Some favorites are Bjork, Kate Bush, David Byrne, Hans Ulrich Obrist...people who wear more than one hat.
Previously, you've worked at Fabrica. How did the experience shape/develop your practice?
Working at Fabrica was a lovely experience – I got to work alongside some really exceptionally talented people from around the world, on projects that exceeded a traditional design role...and on top of it all got to live in a beautiful town in Italy, explore new places, and bike to an incredible building designed by Tadao Ando every day. There was no shortage of inspiration, and I think that now I'm more comfortable stepping outside of what I consider my creative comfort zone. I also ate lots and lots of gelato. 
Currently you're based in Brooklyn. What kind of impact it has on your creative in process?
My shoulders are often up to my neck with tension from a daily commute and lack of space. That definitely translates to the type and scale of work I'm able to produce. I've been dreaming of moving out of Brooklyn so I can get a huge studio space and make massive pieces but, for better or worse, I still love it here–being surrounded by people who continuously strive to be better makes me try to be better too.
Are your artworks connected to your personal history? In what ways are they connected?
I've started working in a new style that is inspired by feelings of disconnect from reality, derealization, and a search for a deeper understanding of my environment. I actually found some old drawings from when I was ~5 years old, I would draw shapes in people's faces, where there should be eyes, a mouth... so I'm experimenting with that concept. Usually the titles are inspired by personal moments. One of my newest paintings is called "Getting Up in The Middle of the Night to Pee". 
What's your motto in life? 
Don't take yourself too seriously. Be kind. 
Which material/medium you want to experiment with in future?
I recently found out about hempcrete and would love to make something with that. I'm also thinking about designing a lamp for my living room...we can't seem to find one we like from a store, so I guess I'll make one.
Do you collect any any objects as a designer? 
I collect rocks while traveling – I've been meaning to archive them. I also collect images of things that people drop and have an instagram @it_dropped where I log them. I like found objects and thinking about where they came from, why they were left behind and if anyone misses them...
Where's your studio located? What's a typical day in the studio like?
My studio space is a room in my apartment that I share with my partner, who is a writer. We call it The Shed. On a typical day in the studio I'm bouncing between working on my computer, sketching out ideas, and waiting for paint to dry. 
Are there any books that changed the way you look at art?
One that comes to mind is The Creative Independent, which I first came across in the form of a small book but now often find myself referring to their website that's updated with interviews and guides weekly for artistic advice and support. 
Do you have any side projects that you're working on?
I'm in the early stages of a comic book, in collaboration with my partner. I'm also working on a few paintings and taking up another ceramic class. I've been focusing on making simple, functional objects like bowls and planters, which provides a nice structure in contrast to my more playful design approach. I think it's helpful to create some rules and limitations for myself, otherwise it can be too overwhelming. 
What makes you excited about the future of design? 
I'm excited about the revival of old techniques like risograph prints and about the use of more sustainable materials. I'm excited to see how design can continue to help people in need. I think that design and art have the capacity to do good, and I hope to be a part of that.